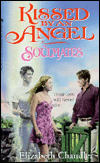 Soulmates
by
Elizabeth Chandler
Genre: Young Adult Fiction
Form: Book
Series: Kissed by an Angel
Time is running out...

After her boyfriend, Tristian, dies, Ivy thinks she's lost everything - until she discovers Tristan is her guardian angel. But Tristan has come back to Ivy with a mission: The same vicious killer who killed him wants Ivy dead. Together Tristan and Ivy must find out who it is and stop him.

But if Tristan rescues Ivy, his mission will be finished, and he must leave the earth and his true love behind forever. Will saving Ivy mean losing her...just when he's finally reached her again?

After he's gone, will the spirit of his love protect her?



...source: back of book...
Soulmates was a quick read. I started and finished it on a Saturday when I wasn't feeling well and didn't feel like doing much else. It was pretty thin on content and depth, but it was entertaining none-the-less. For something easy to read, this book will fit the bill.

Character interaction was pretty good, which is probably what kept me reading. Otherwise, the lack of depth would have found me bored and putting it down forever. I did not think that Elizabeth brought out the latter conflict of the books summary (rescuing Ivy = Tristan leaves thus leaving her) very much. I did like how Tristan freed Ivy up for future love. I also enjoyed Beth's character as well, Ivy's premonition receiving friend. I had wished she got to play a bigger part in the story. I also actually really liked the villain of the story. He was well played and deceptive enough, though the deception was not drawn out enough in my opinion. Ivy and everyone else were privy to him too early in the story. It may have actually played out better had it been a little bit more of a surprise.