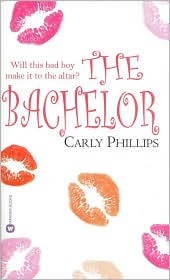 The Bachelor
by
Carly Phillips
Genre: Adult Romance
Form: Audio Book
Narrator: William Dufris
After news of his mother's weak hear summons him home, globetrotting journalist Roman Chandler loses a coin toss with his brothers that determines who will relinquish his bachelor status to give their mother a grandchild. Roman decides to "settle down" without giving up his travel-intensive job, and as one of the most handsome men in town, he can have his pick of the local women - except for Charlotte Bronson, his high school crush. Thoughts of her parents' miserable long-distance marriage keep Charlotte from accepting Roman's proposal, despite the sexual sparks that fly at their every encounter. Mutual attraction eventually proves too powerful to resist, however, but first Roman must win her trust...


...source: back of audio book...
The Bachelor
is a fun romance filled with love, mystery and drama. I loved the characters in this book, and the interaction between characters. What I didn't love was the narration. It annoyed me through the entire book, making the Chandler brothers sound like Ranger Roy wanna-be's with a "howdy partner" type affliction on their voice. But the dialogue that Carly wrote did not indicate a cowboy type attitude. She created arrogant male lead(s), but to me they should have had a husky romantic playfulness about them, instead of a harsh sounding cowboy.
The characters in this book definitely made the book what it is. I found myself wanting to fall in love with Roman Chandler myself, and also wanted to see sparks fly for his brother,as well. Perhaps there will be a
part 2
? The sparks really do fly for Roman and Charlotte - so much that neither one can resist. I loved the scene when where one of the small-town girls finds her way into Roman's bedroom wearing only panties (panties that are special to this book...), and finds herself caught in a tricky situation when, 1. Roman does not welcome the surprise, and 2. his mother suddenly shows up at home as well.
But the book really is not all fun and love - but does have some baring of the heart as well. Both of the main characters in this book end up having to strip themselves to the core to understand their preconceptions of the way they thought things were, and the reality of what really was going on in their lives. It is only when they know the truth about themselves and their families that they can truly love each other.