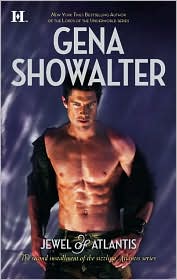 Jewel of Atlantis
by
Gena Showalter
Genre: Paranormal Romance
Form: Book
Series: Atlantis Series
All Atlantis seeks the Jewel of Dunamis, which legend claims can overcome any enemy. Grayson James, human agent of the ultrasecret Otherworld Bureau of Investigation, has orders to keep it from the wrong hands - or destroy it. What he doesn't know is that Jewel is a women, not a stone! But once he meets this precious gem, destroying her is the last thing on his mind...

Jewel, part goddess, part prophet, needs Gray's help to win her freedom. Gray needs her wisdom to navigate monster-ridden Atlantis. But need blossoms into passionate love as they battle demons, dragons and vampires - and fight for a future that seems impossible...


...

source: back of book

...
I am a much happier camper now!
Jewel of Atlantis
, for me, was much better than
Heart of the Dragon.
The story as a whole moved at a good pace. There was no rushed battle scene (in fact, there were many action filled battles scenes in this book), and the ending was not rushed to an abrupt stop either. I loved Gray and Jewel's first meeting, inside Gray's head - it helped to build the intensity of the relationship having him so attracted merely by her voice. The story as a whole was much better built in my opinion. The danger that wraps around Jewel seems real and the story as a whole really gives you a good glimpse of the world of Atlantis that
Heart of the Dragon
did not allow you.
Some of my favorite parts include Jewel and Gray's day at the market, and Jewel's joy of shopping, followed by Gray pretending to be a God. It really just made for the perfect day, and the only few hours of relaxation the two get to share until closer to the end of the book. But my absolute favorite part was Gray himself. The handsome hunk of a man who unwillingly admits he's falling in love with Jewel. His words, "You are mine, you are mine you are mine," echo in my head as I think about this book. He is one of my favorite male leads to date, falling closely behind Adam Black & Daegus MacKeltar of the Highlander series.