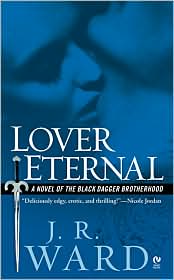 Lover Eternal
by
J.R. Ward
Genre: Paranormal Romance
Form: Book
Series: Black Dagger Brotherhood
Within the brotherhood, Rhage is the vampire with the strongest appetites. He's the best fighter, the quickest to act on his impulses, and the most voracious lover - for inside him burns a ferocious curse cast by the Scribe Virgin. Owned by this dark side, Rhage fears the times when his inner dragon is unleashed, making him a danger to everyone around him.

Mary Luce, a survivor of many hardships, is unwittingly thrown into the vampire world and reliant on Rhage's protection. With a life-threatening curse of her own, Mary is not looking for love. She lost her faith in miracles years ago. But when Rhage's intense animal attraction turns into something more emotional, he knows that he must make Mary his alone. And while their enemies close in, Mary fights desperately to gain life eternal with the one she loves...
I must say I'm hooked on another series. I really do love it when a series wraps you up into not only the life of the main characters of that particular book, but interweave the stories together so that they capture your attention, making it somewhat impossible to just read one. Well, as long as they are good books that is.
Lover Eternal
was a great story. I really enjoyed how J.D Ward causes the two characters strengths and weaknesses to compliment each other, sort of how that happens in real life...except the whole vampire thing of course. Some of the better parts include how Rhage stands up for his feeling and for Mary despite the rules against humans. Part and particle to the story, I like how she is bringing out Butch as a character, in the end he starts taking control and pushing out instructions. Part of me is thinking, 'what right does he have doing that,' where the other part is saying, 'This is who he is. This is what he does.' I'm very interested in all the brothers, and their stories - but I'm also looking forward to seeing Butch and even the new warrior, John, in the books to come.
I still have a hard time with the names of the Brothers. On one hand I like it, they are warriors, they are dangerous. On the other hand I'm thinking it's over the top. Not only that, but what person (human) in their right mind would trust someone called "Wrath,' or "Rhage?" And the spellings, making them more name-like, yet still reminds me of people who use special spellings to make their baby names different. But the books are good enough that it's something I definitely can live with.