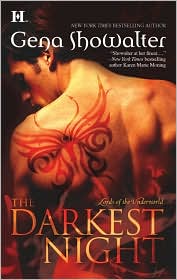 The Darkest Night
by
Gena Showalter
Form: Paperback
All her life, Ashlyn Darrow has been tormented by voices from the past. To end the nightmare, she has come to Budapest seeking help from men rumored to have supernatural abilities, not knowing she'll be swept into the arms of Maddox, their most dangerous member - a man trapped in a hell of his own.

Neither can resist the instant hunger that calms their torments...and ignites an irresistible passion. But every heated touch and burning kiss will edge them closer to destruction - and a soul-shattering test of love...
Now THIS is much better! :) The characters were strong. The story was good. The romance was definitely present, but paired with the story it was great. I cannot say this one of the best books I've ever read...by far. But it was a good book. There were parts of it (the romance parts...) that had me clinching my fist and holding my breath. And I'm not
really
(well, I wasn't anyway) a romance reader. I like romance pared with drama. Maybe I'm a convert, at least to the fantasy, or paranormal romance novel. I will be getting the 2 books that follow this one.
I do not think that the synopsis on the back of this book does it much justice. We're dealing with a clan of men who are demons, and who are possessed with the spirits from Pandora's box. But they try to be good guys...they don't want to be monsters at least. But their struggles are great. Particularly Maddox, who is sentenced to die every night at midnight - 6 slashes of a sword, and then must suffer the remainder of the night burning in hell. So meeting Ashlyn is the greatest, and perhaps the worst thing that can happen to him. She provides the taming that his spirit needs, and he does the same for her. I think one of my favorite parts of the book was how Maddox and Ashlyn talked to each other in fragments. Ordinarily that would just be awful, but in this book, it worked.