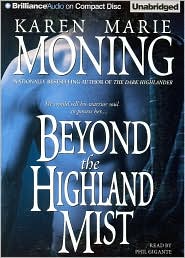 Beyond the Highland Mist
by
Karen Marie Moning
Form: Paperback
AN ALLURING LAIRD
He was known throughout the kingdom as Hawk, legendary predator of the battlefield and the boudoir. No woman could refuse his touch, but no woman ever stirred his heart -- until a vengeful fairy tumbled Adrienne de Simone out of modern-day Seattle and into medieval Scotland. Captive in a century not her own, entirely too bold, too outspoken, she was an irresistible challenge to the sixteenth-century rogue. Coerced into a marriage with Hawk, Adrienne vowed to keep him at arm's length -- but his sweet seduction played havoc with her resolve.

A PRISONER IN TIME
She had a perfect "no" on her perfect lips for the notorious laird, but Hawk swore she would shisper his name with desire, begging for the passion he longed to ignite within her. Not even the barriers of time and space would keep him from winning her love. Despite her uncertainty about following the promptings of her own passionate heart, Adrienne's reservations were no match for Hawk's determination to keep her by his side...
This books is perfect for a romance reader. Since I fall somewhere in between, not exactly "perfect" for me, but it was good enough. Something I'll likely get used to in about a month or so since my next 4 books, which I got for Christmas, are all romance/fantasy (probably more romance than fantasy I assume), so brace yourselves!
This book actually had only a semi-good on my character development spectrum since I felt that we got to know Hawk pretty well actually, and not enough about Adrienne. But that's my opinion of course. It was heavy on the romance, as I'm sure you can guess - so the plot was there, but only in between passionate embraces. I felt that Karen could have played a bit more with Adrienne's resistance. I wasn't overly thrilled with Adam Black's character at all. He lacked any real compassion for Adrienne. He seemed really only to care that he was beautiful and she was beautiful and felt like that should have been enough to convince her to choose him over Hawk. There really could have been more conflict build into that one also.
As I said, this was good, but not great for me. I definitely prefer Karen Marie Moning's Fae series better than her Highland Series - so far. But I DID read an exerpt from
The Immortal Highlander
at the end of this book, and was much more intregued, so this may not be my last Highlander book.