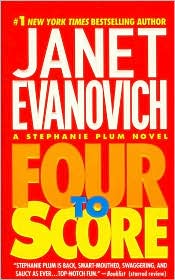 Four to Score
by
Janet Evanovich
Genre: Adult Fiction
Form: Audio Book
Series:
Stephanie Plum
A new mission, a new adventure, lots of fun. Stephanie has competition in the form of the women who she caught with her ex-husband, so you know she's determined to get this no-show. Stephanie again gets to pair up with Lola as well as Grandma Mazer, and another goof to add to the troop – a transvestite who is really straight but "in it for the money," Sally. They run into all sorts of scenarios and trouble, not the least of which is getting her apartment fire-bombed by a crazy jealous girlfriend, causing her to temporarily move in with Joe Morelli. An agreement that takes no time to turn into more than just "renting a room."
So now, not only does Stephanie have to deal with her case, her crazy ex-husband's ex-lover, her own crazy family, but she also gets to add Joe's crazy family (which actually reminds me of the crazy family on My Big Fat Greek Wedding) to the mix. The only thing missing from this book was the end question of – did Stephanie get pregnant? I am thinking no, but it was left hanging there – no answer. Perhaps High Five will shed some light on the subject.
This book stepped it up in the steaminess area, and maintained it's normal chaotic Stephanie-isms. Once again – Stephanie messes up her car and her hair – she just can't seem to catch a break, or get rid of that big blue Buick.