So I'm about to be on book overload - what I mean is, I'm going to have too many books to deal with in a matter of days. I just found out that I can download e-books via Overdrive Media for my ipod through my local library. (If you haven't checked your library's website recently, you might want to - you can download audiobooks and ebooks for your ipod or e-reader for free. Of course you are just borrowing the books, so you can't keep them....but for me it's WONDERFUL!)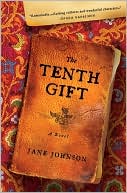 I recently went to the
Barnes and Noble
website and found out they were having a sale on their bargin books. (I'm not sure the sale is still going on, so don't be disappointed if you go and find no sale!) I purchased four books for about $15 - can't beat it. So currently I'm waiting on the following books to arrive from BN:
I am waiting on the following Audiobooks on Overdrive media:
I already have the following Audiobooks waiting to be listened to:
E-books I have requested:

Not to mention the fact that
Tempestuous
by
Lesley Livingston
,
Across the Universe
by
Beth Revis
and
Shadowfever
by Karen Marie Moning are all coming out this month. One of these three I'll be getting via audio using my Audible credit.
So that is 18 books people...and it's just January!